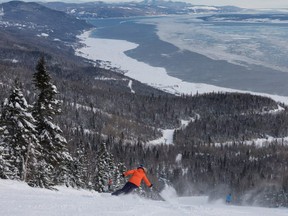 Article content
Quebec City has it all: Food, culture, history, three world-class ski resorts and fantastic European flare. The city oozes fun, romance and adventure with quaint shops, a chill vibe, restaurants and attractions.
Article content
My first adventure was a 20-minute drive from Jean Lesage Airport to a unique destination called Hotel Valcartier. This four-season resort is impressive but what's unique is that outside the backdoors is the Hotel de Glace, the only ice hotel in Canada and one of only three in the world. Walking up to the hotel, you wonder what the heck it is but then you walk through unassuming wooden doors to a huge "Wow!" entrance with gleaming ice, massive sculptures, a barrage of colours and strategical lighting bouncing off every corner.
Article content
It's one of the most spectacular attractions I've ever seen. The hotel features just over 25 themed ice suites with beds made of ice, covered in sheepskins and topped with specially made arctic sleeping bags. I highly recommend this for a unique experience.
Article content
My next stop was Quebec City, just 20 minutes away. With every visit, I marvel at it's old-world vibe that looks like something out of a European travel brochure with narrow streets, gourmet restaurants, art galleries, cozy cafes, boutiques and museums. I stayed just outside the city walls at the L'Hotel du Capitole, right across from the outdoor skating rink, Place d' Youville, and a three-minute walk to downtown. Reception is on the seventh floor and all rooms have amazing views of old Quebec City including the magnificent Fairmont Le Chateau Frontenac with all it's grandeur and history of welcoming world leaders and celebrities. The Champlain restaurant will treat you to some of Quebec's finest French cuisine all overlooking the St. Lawrence River.
Article content
I have to mention one of the coolest restaurants I've ever experienced: The five diamond Taniere restaurant. Take note of the address of 361/2, rue Saint-Pierre as there are no outdoor signs and you can only enter with a code you get when making a reservation that you enter on a keypad. Don't be in a rush when you book here. It's full experience dining with just over 60 seats and separate themed dining areas. I enjoyed a five-hour, seven-course meal with 30-year-old head-chef and co-owner, Francois-Emmanuel Nicol. The restaurant's philosophy is that local foods make the difference while also preserving Quebec's heritage. Taniere is such a unique experience that I think it will be the first Michelin restaurant in Quebec and only the third in Canada.
Article content
On to the slopes where my first stop was Stoneham, a family resort about 25 mins from Quebec City. I got a beautiful blue bird day with perfect snow conditions and small lift lines. The mountain is a good size with a nice vertical and a number of easy winding trails, the longest being 3km. We finished our enjoyable day with a late lunch and sampling at La Souche -Microbrasserie and restaurant.

Day two of skiing was just 40 minutes from my hotel at magnificent Mont-Saint-Anne. It's a gigantic mountain you can see for miles away and I'm really happy to say, it's open after having to close to address some mechanical issues. I love St Anne for its' long runs (the longest is 6km with an impressive vertical), variety of trails, tons of snow, nachos in the bar and great views of the St. Lawrence River.
Article content
My next ski stop was going to be Le Massif de Charlevoix, known for the steepest vertical east of the Rockies. But when I left St. Anne for my hotel in Baie-Saint-Paul one of the famous Quebec mountain blizzards hits; I won't soon forget the nasty and dangerous white outs. Despite the extended drive time, I finally arrived at Le Germain Charlevoix an impressive eco-friendly hotel best known for its luxurious spa, and local culture including the cozy Le Barcail restaurant and history. The town of Baie-Saint-Paul has the traditional Quebec feel with quaint shops, restaurants, and unique attractions such as the only honey winery I've ever seen. Hydromel Charlevoix is on the main street and where I enjoyed some honey wine sampling with co-owner and wine creator Alex Cote. It was a wonderful experience, and while I'm not a wine drinker I found my wallet $300 lighter so I could take some of the blueberry honey wine and hand-crafted honey home.
Article content
The blizzard continued the next day with 70km winds and driving snow so instead of skiing, I took advantage of the world-class snow shoeing and luging that Le Massif also offers on a 7.5km trail winding through beautiful and peaceful Quebec back woods. I couldn't wait to return the next day for pow-pow skiing with 50cms of fresh powder. The mountain, the trails, chalet, food and breath-taking scenery are all spectacular along with a fantastic apres experience at Grand Duc pub with live entertainment. I call Le Massif "infinity pool skiing" because of the impressive verticals and slopes which give the illusion of skiing right into the St. Lawrence, despite being a mile away.
All in all, my Quebec City experience was one of the best I've ever enjoyed. I learned a lot about Quebec City, its people, attractions and of course the skiing with a magnificent blend of culture, tradition and heritage that will bring me back soon. Next week, we'll be coming to you from Austria.
CROUTER: Horseshoe Valley keeps improving

36 hours of fun: Skiing and dining at Les Sommet, capped off by a trip to Montreal, life is good in Quebec
Check out our sports section for the latest news and analysis. Care for a wager? Head to our sports betting section for news and odds.
link