A new food market is rising in east London from the ashes of the London Food Incubator and it boasts a bakery as an anchor tenant.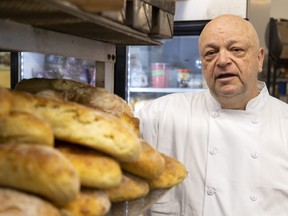 Article content
A new food market is rising in east London from the ashes of the London Food Incubator and it boasts a bakery as an anchor tenant.
Article content
The East Village Market has opened in what was the incubator space, the yellow brick building at 630 Dundas St. envisioned originally as a place where small food businesses could get their start.
Article content
It still allows small businesses to establish and grow, but the rebranding is intended to send the message it is open for business now, said John B. Young, business manager for the new market.
"When people walk into 630 Dundas St. they will see unique food opportunities," he said.
"We want to bring people into that space and it needed more diversity."
The incubator title did not resonate with food lovers and a market is a more accurate description of what it will do, Young said.
"It is about homemade, about supporting good regional, local food."
Article content
One of those new businesses is Baker's Table and Pastry Co. that will sell its baked goods online only.
If all goes well, Baker's Table will open a retail outlet in the spring, but until then, its assortment of baked goods is available to order online, owner Rob Howland said.
"I walked into this building and immediately felt comfortable in this space," he said of the market.
"It is time now for us to encourage people to get together again," Howland said of opening the business as the pandemic eases.
He has taken over about 1,500 square feet of what used to be a grocery store space that closed during the pandemic.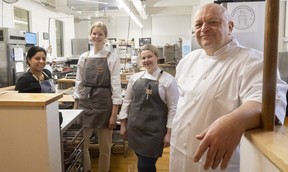 The market is still home to Fire Roasted Coffee, for roasting and not beverage orders, and other food businesses including Willie's Café; Yaya's Kitchen; Immanuel's Kitchen; Root 8, a vegan food business; QBites, a Latin food business; Jura and Co., a yogurt business; and Lunar Hot Sauce.
Article content
There also is a home décor business, It's a Steel Thing, featuring signs and ornaments cut from steel.
But Baker's Table has a large section of the market. Although Howland works full time teaching baking at Clarke Road secondary school, he felt the need to work as a daily baker and opened the business in June.
"I was a cutting-edge chef. But after 10 years of teaching I am not finished yet. I am not done. I want to be creative, to invent stuff," he said.
Howland. is quick to add, "I love my job and the students at Clarke Road, but I feel I have more to give."
He initially opened the bakery to the public, but decided recently to focus solely on online sales until the business grows. He is not daunted by the fact London has several bakeries offering fresh baked goods. Howland believes the more small businesses serving customers, the better.
Article content
"There needs to be more and different styles of bread," and baking, he said.
"We make awesome stuff and the more bakers there are in the city, the better. Having small, nimble businesses makes more sense than there just being big businesses."
International Bakery reopens, but this isn't your nonna's store anymore

Two new commercial bakeries to fire up $9M in London investment
Howland is an established pastry chef. He has worked at Langdon Hall in Cambridge, regarded as one of Canada's finest restaurants, and graduated from the Culinary Institute of Canada in Prince Edward Island in the early 2000s. He worked at several businesses, before landing at Langdon Hall about 16 years ago. He was there for about five years and moved to London for family reasons.
He worked at restaurants here from about 2006 on, before returning to school to become a teacher. He also taught at Arthur Voaden secondary school, before working at Clarke Road.
Howland also will offer baking classes from the new space, in the new year. He describes the new market as a collective, or co-operative of small businesses working together.
"This will make London take a step forward and become a better food city," he said of the market.

link