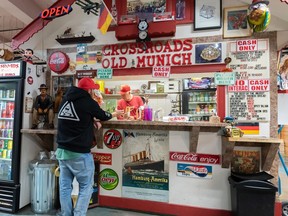 Reviews and recommendations are unbiased and products are independently selected. Postmedia may earn an affiliate commission from purchases made through links on this page.
Article content
The term "hidden gem" usually refers to something small, like a tiny café tucked into a strip mall or an unexpectedly fantastic family-run restaurant in a small town. One of Calgary's most unsung treasures, however, is hidden in plain sight, occupying an enormous building right in the centre of the city. The Crossroads Market, a presence since 1987, doesn't get as much fanfare as some of the city's newer or flashier markets and food halls, even though it is packed with diverse and delicious things to eat.
Article content
Calgarians can be excused for driving by Crossroads and not even noticing its existence. Located in a former meat-packing plant near the confluence of Ogden Road and Blackfoot Trail, the quirky building tends to blend in with its industrial surroundings. Inside, visitors will find a bustling ecosystem, with 122 vendors on the main floor and additional tenants including Loose Moose Theatre on the second and third levels. The market, which first set up shop where the Crossroads Furniture Mart now is in the northeast has been in its current home since the early '90s. It initially had a reputation for having a swap meet feel, thanks to many still-existing vendors specializing in collectables, used books and videotapes, trading cards, and other miscellaneous items. Over the years, the market has shifted into a destination for food lovers, hosting several entrepreneurs looking for a low-overhead way to launch their businesses.
Article content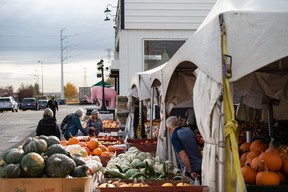 "Our focus has always been on the people," says general manager Nicole Schon. "Our tagline is that we're 'the people's market.' It's all about the young entrepreneurs and the immigrants who are thinking about their businesses back in their home countries. Those are the people we try to support."
With lower rental rates than many other markets in town, this means the maze-like market floor is filled with an astonishingly varied array of things to eat, with a food hall featuring Turkish fare from Anatolia Turkish Cuisine (who have been in the market for over 15 years), street food from the incredibly popular Eats of Asia, curries and samosas from the original Deepak's Dhaba location, gluten-free baked goods from The Cookie Jar, budget-friendly burgers from Roxy's Grill, and salsas and fresh chips from Molcajete Authentic Mexican. This is all in addition to grocery elements like Chongo's Market and the outdoor farmers' market that runs outside in front of the building from June to the end of October.
Article content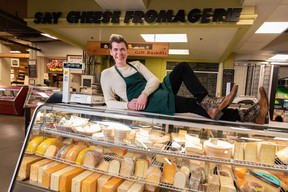 While Crossroads does carry a delightful sense of old-school grit, newer vendors are finding a comfortable home there too. Say Cheese Fromagerie has been the market's resident cheese shop for decades but was recently taken over by Isaac Bignell, who bought the business after spending his formative years working for former owner Nancy Brown. While Bignell honours Say Cheese's history, the passionate cheese advocate also initiated some changes in working with a new supplier that brings in exclusive cheese from around the world, including a particularly enticing collection of French selections.
"I want to shoot high," says Bignell. "I never want to be an elitist store – we will always have our discount cheese, so if you have four bucks to spend, you can still buy cheese from me. Or if you have the budget to buy from one of only five cheeses brought into the country, I can do that too.
Article content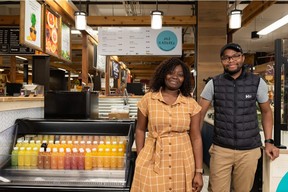 Bignell isn't the only new proprietor in the market. Ayonni Soumanou, who previously worked in the financial sector, was a regular customer at Crossroads, but she noticed that there wasn't a cold-pressed juice vendor on site. She turned her passion for creating fresh and flavourful juices at home into a new business earlier this fall with Jus Naturel, a stand that sells blends made from fruit Soumanou purchases from the market's produce vendors. She's a prime example of the circular nature of the healthy market community: a customer who becomes a vendor but continues to support the other businesses that drew her in in the first place.
For a full list of vendors and other information about the market, visit crossroadsmarket.ca. Crossroads market is located at 1235 26th Ave. S.E. and is open Fridays, Saturdays, and Sundays from 9 a.m. to 5 p.m.
Article content
***
In other restaurant news, Banff's Taste For Adventure dining festival has returned to the Bow Valley. The festival kicked off on Oct. 28 and goes until Nov. 13, with 24 local restaurants offering various specials to showcase the ever-growing mountain restaurant scene. Eleven new restaurants have opened in Banff and Lake Louise since November 2020 and many of those, including Bluebird, the newest restaurant from the Banff Hospitality Collective, will be participating with fixed-price menus and other experiences. The festival coincides with the Banff Centre Mountain Film and Book Festival, which runs until Nov. 6, just in case you need an extra reason to get out to the mountains. For more information on Taste For Adventure, visit banfflakelouise.com/tasteforadventure.
Elizabeth Chorney-Booth can be reached at [email protected]. Follow her on Twitter at @elizaboothy or Instagram at @elizabooth.
link