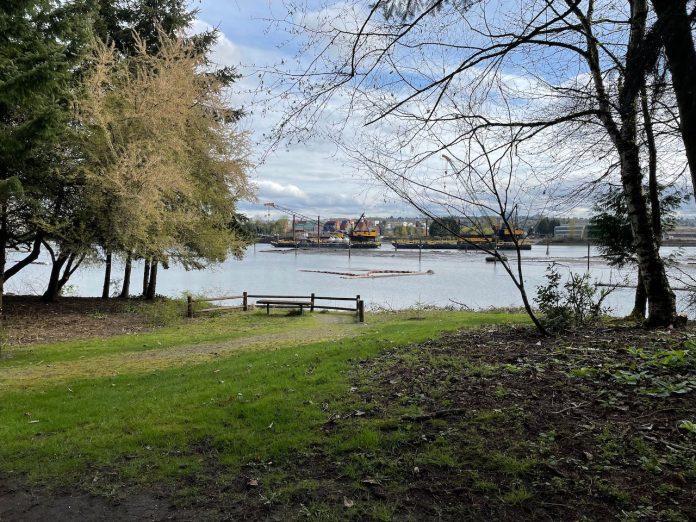 For most folks, their mental image of a city park is somewhat focused, and kinda Victorian. It's an Olmsted designed rolling green of trees and meadows and trails cloistered apart from the hustle. It's a place to jog or dog walk or watch the clouds go by. There may be parasols.
But the city has industrial land too. And there are parks with trees and trails and playfields in those areas. Not enough, but they're there. The limited number of green spaces among the city's working manufacturers is just one of the constraints on these places.
Active Work [Yards]
Seattle has a couple of flavors of parks in industrial areas. Like many of the parks throughout the city, they roughly break down into their uses. There's the athletic fields, the passive recreation open spaces, and the wooded natural reserves.
But industrial surroundings give any park a very different character. Trees and factories feel dissonant. What would be a very nice waterfront in most other parts of the city takes on a unique personality where traffic and steel move past. 
The Port of Seattle maintains a half dozen parks through the Duwamish watershed. Just off West Marginal Way across from the Duwamish Longhouse and Cultural Center, həʔapus Village Park sits on the river. It is a lovely park with public art, connections to the bike trails, and places to relax and watch the river go by. But the ever-present rumble of freight along Marginal Way and the movement of boats and cranes on the water can break the traditional feeling of park.
In Interbay, the well used Elliott Bay bike and walking trail winds through Myrtle Edwards, Centennial, and Elliott Bay Parks. Getting to that trail and those parks requires crossing the also heavily used BNSF rail tracks as well as the Elliott Avenue surface highway. For stretches of the trail, the breeze and water are mesmerizing. Then a stopped train gets moving and eighty couplers sequentially lock into place, in a wave of rolling sound that races past anyone on wheels. The park passes under the grain moving from Louis Dreyfus's silos to waiting ships.

The sense is very different at Terminal 18 Park on Harbor Island, where a visit requires driving the length of the island, then turning around and driving back. Parking is almost as thin as the narrow grass patch between freight corridor and waterway. The picnic shelters are angled, reminiscent of factory roofs, but could also be reflecting the sound back towards the road. 
Further up Interbay, the Interbay Athletic Complex is technically outside of the industrial area. However it is surrounded on three sides with industrial zones and on the fourth with the deadly highway that is 15th Avenue. The site is mostly built on top of an old landfill, so its use other than green space is difficult. The fields host Seattle Pacific University's athletic teams and the future Ballard FC soccer club. It seems dissonant for athletics to occur in pollution, until we recall two much larger sports stadiums – T-Mobile Park and Lumen Field – are also athletic spaces on industrial lands surrounded by old factory lofts and highways. Seattle's non-industrial zones shred the city into such minuscule pieces that the only places left to find space for athletics is industrial areas.
Georgetown Playfield is one of the best located sports fields in the city. No, it doesn't have a dozen fields or tons of parking. But it does have one thing lacking at almost every one of Seattle's other parks. It's next to a place to get coffee or lunch. With most of the city's parks nestled in hard residential sprawl, it's an accomplishment to be able to grab food within easy walk of a park. The walk is separated by a single, but apparently active rail line, and the backstop for the baseball field is an offramp of I-5.
Outside of the Duwamish industrial area, on a ridge overlooking the jobs and trains is Riverview Playfield in West Seattle. Unlike Georgetown's single astroturfed field, this complex has a half dozen natural grass ball fields, a couple soccer fields, and tennis courts used as dog runs early on a warm Thursday morning. The difference may be that the entrance to the park faces all residences. It all sits in a greenbelt of parks, a chain stretching from the West Seattle Bridge, past South Seattle College, through this area, then heading to the city line. This is high up above a lot of the noise of goods moving below, but with early spring, the full wall of leaves have not made a complete noise and view buffer to the work going on below.  
On the east side of this same greenbelt, the trees are thick up to the point they meet the concertina wire of work yards. Small roads cut into the greenbelt to access private properties, quite a few doing landscape and nursery work. Looking up the hill, it is impossible to see the Riverview Playfields. Which seems to be the point, but from the other direction.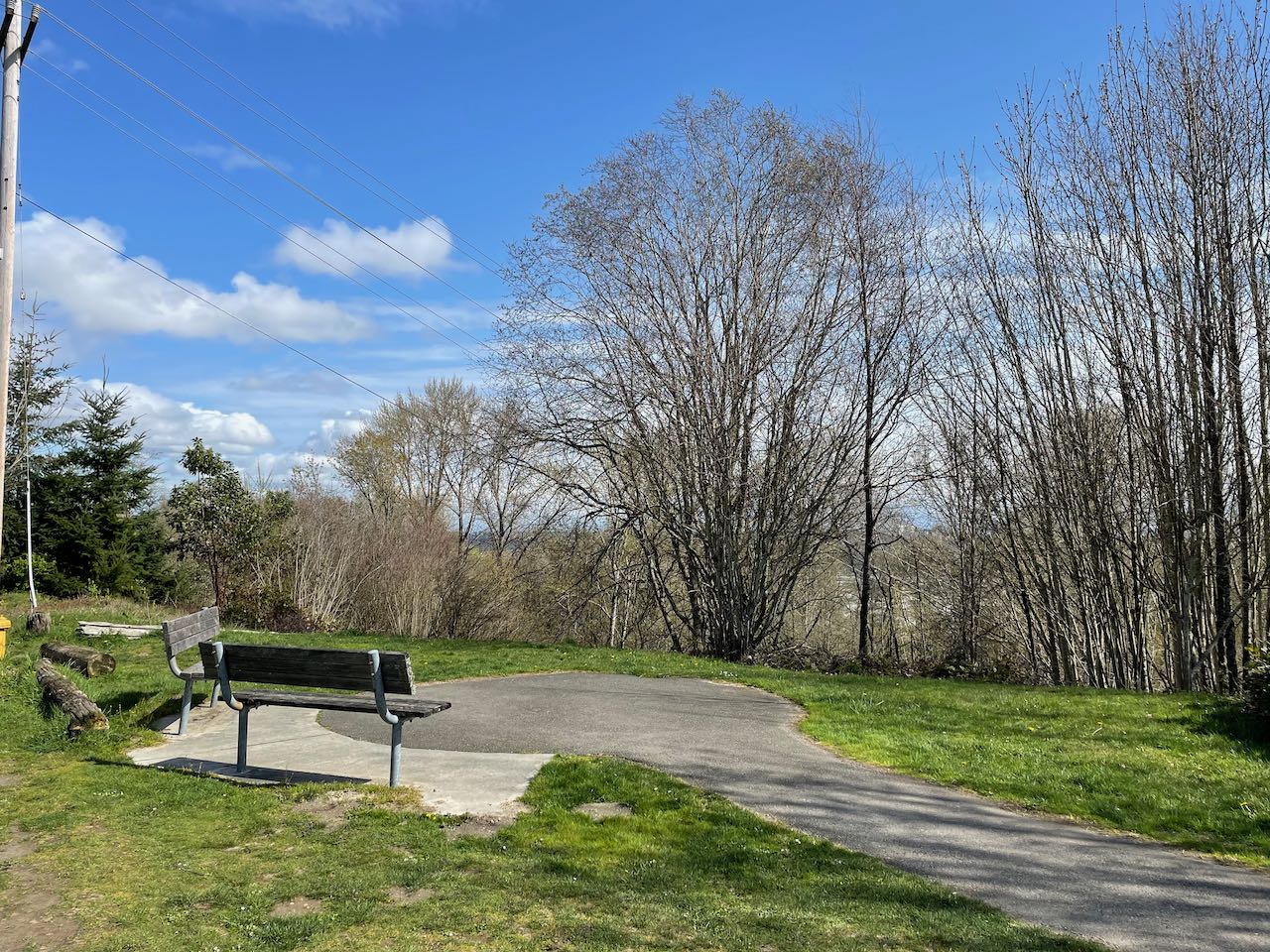 The separation creates the difference. The greenbelt here and in many spots around Seattle's industrial lands, are quirks of history and topography. These steep slopes are the most difficult to develop, so they were last. They had time to be preserved as buffer and reinforce the separation between job and home. Had industry been wind powered at the time, rather than water focused, the sides very well could have switched. But that's impossible now because laws and tradition make these barriers unbreechable. Greenbelts through Seattle serve as supplemental zoning divisions.
And the separation creates the other. A derogatory assessment would suggest that industrial green spaces have more in common with a highway rest stop than with what a park should be. Such fails to understand what's causing the issues in the park. It's not the boats moving by or the factories themselves, it's that we've only left these places as remnant slivers. Of course they can be loud or difficult, only because they're so very narrow.
Narrowness. Buffer. Sliver. Taper. Between. The consistent theme of industrial parkland is that they're edges. The edge of the river. The edge of the port. The liminal spaces between areas, left behind because they can't actually be used by either. It's not that industry and green space are antithetical, it's that green space was an afterthought. Green that was installed because nothing else could go there. Green to keep the loud smoke from (some) of the houses. Green to play on, after we couldn't find other places big enough. Green as a use to separate or use up.
The New Air [Port]
Are these parks actually useful? During weekday visits, they're thinly used and continually assaulted by the many noises of the nearby highways. The parks are hard to get to, inaccessible without a car unless you're up for a long bike ride or a few transit transfers. So why have them? In a time when port space and industrial areas are at a premium, should this much land be used for green that doesn't produce jobs? 
The question itself is a hurdle to thinking of industrial land. Such narrow focus on "success" in terms of more trips or more output is written into state law. Enabling legislation forces the Port of Seattle (and all state ports) to think strictly in terms of economic development and expansion of business. What if economic development depends on NOT expanding port uses. The Port's parks are a perfect example, and generally well done. And they make the place better in an area that once had all its trees stripped bare. Let's go a step further.
By conceiving of industrial utility only in terms of freight moved or money earned or even daily visitors, we miss the opportunity to consider other uses of the land that improves the area or mitigates the impact of nearby industry. Forcing a particular brand of expansion or utility makes it impossible to consider other opportunities. It's an opportunity to think beyond leaving the edges for biodiversity, and start bringing green into the core of our industrial space.

Industrial areas will benefit from parks that don't welcome visitors. Striping parks with parking and trails to draw visitors narrows the types of vegetation that's installed. Seattle's industrial areas see some of the highest rates of pollution. The Port would benefit from a dedicated set of air scrubbers immediately near by. Harbor Island is going to be one of the most affected by climate change, as it's inches above Puget Sound's high tide. Parts of the island currently dedicated to surface parking, infrequently used roads, and segments of quasi-useful public parks need to be seriously considered for heavy foresting not designed for access by the public. This will be the drainage and pollution mitigation that will keep Harbor Island usable for another generation.
University of Washington's Union Bay Natural Preserve as well as Marsh Island and Foster Island across the water are good, but incomplete examples. They do preserve a lot of space between the school, the water, and the neighborhoods. And it's a beautiful, natural area. But the properties are also crossed by trails and reinforce the exclusiveness of the residential neighborhoods nearby. It's not an opportunity offered industrial areas. 
A true change would be releasing the idea that there's some hard barrier between green and industry and houses. We put plenty of institutions into park settings, from colleges to office complexes. Such location is ironic because their many uses – housing, food service, recreation, construction, arts, training – don't get broken apart the way we do through zoning the city. Schools do not force work into one corner and living into another, and reinforce that separation with sacrosanct green space. UW is housing and industry all together, with plenty of trees too.
Even putting the burden of improving the area's air and water is expecting utility. Lying fallow and recovering is a legitimate use. Not as a parking lot or a lawn, but as a stretch of soil naturally reclaimed by whatever plants and animals find it. Seattle's industrial lands have been extracted and beaten for over a century. They can rest for awhile, and that will be okay. (This applies to people too.) 
So the Port of Seattle is doing right with its system of waterfront parks through the Duwamish. The connection to the City's parks that ring the industrial lands benefits us with recreation space and buffers. But the overall complex of greenspaces around our employers shows that we're asking so much from these giving trees. We're asking them to correct a lot of the errors we don't otherwise face, whether it is our treating green space as an afterthought, our decades of pollution, or our current segregationist zoning. We can do better, and that will mean changing expectations of what a park can be.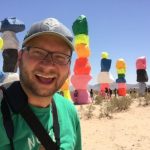 Ray Dubicki

Ray Dubicki is a stay-at-home dad and parent-on-call for taking care of general school and neighborhood tasks around Ballard. This lets him see how urbanism works (or doesn't) during the hours most people are locked in their office. He is an attorney and urbanist by training, with soup-to-nuts planning experience from code enforcement to university development to writing zoning ordinances. He enjoys using PowerPoint, but only because it's no longer a weekly obligation.
link