"We want it to reflect the city and the people around it. We're putting together a nice curated selection of products that we can believe in and share the stories of the working people who make them." — Powerage owner, Susan McIntosh.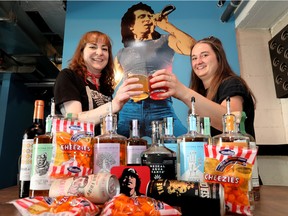 Reviews and recommendations are unbiased and products are independently selected. Postmedia may earn an affiliate commission from purchases made through links on this page.
Article content
Powerage Wine & Spirits
Article content
It was more a dream than an actual plan when Susan McIntosh joked about opening a bar called Powerage Wine & Spirits in tribute to her favourite album by the band AC/DC.
Her dream became a reality for two reasons. First was an inspirational visit a number of years back by McIntosh and her husband Drew to a tiny bar in Japan dedicated to The Who, another favourite of McIntosh's. Second was the 2020 renovation of a building on 124th Street known as Street Railway Substation No. 600. With Irrational Brewing taking over the top half of the 1930s Art Deco-style building, which once provided electricity for the city's streetcar system, McIntosh grabbed the bottom half of 10643 124 St. for her future rock 'n' roll bar.
"I cut my teeth in the bar scene as a rock 'n' roll DJ under the name Bad News Suze," says McIntosh, who also works with her husband over at The Grizzlar Coffee and Records, which he owns and operates. "I don't have time to be in a bar that's not playing rock 'n' roll, and it's important to me to build spaces for people who want to have a rock 'n' roll time in Edmonton. It's also really important to tie a philosophical thread; our style is stripped back and straight ahead, just like your favourite AC/DC song."
Article content
With the Australian rockers as their guiding spirit, you might think Powerage, which had its soft opening July 12 and will start regular hours sometime this week, is positioning itself as a dive bar. McIntosh is quick to kybosh that idea, noting that Powerage isn't a dive bar, it's an "independently owned rock 'n' roll bar." She'll also mention terms like gentrification and algorithms when discussing corporate entities posing as dive bars, but if there's one thing she wants to get across, it's that Powerage isn't pandering to anyone.
"Edmonton is a blue-collar city and I believe that if you want to make something special here it's best to honour that rather than try to paint over it," she says. "So when we conceptualize a fun, upscale night spot, we want it to reflect the city and the people around it. We're putting together a nice curated selection of products that we can believe in and share the stories of the working people who make them."
Article content
That means a considered beer list that includes options from Sea Change and Collective Arts in Hamilton, spirits from the likes of Black Diamond, Calgary's Bridgeland and Strathcona Spirits, and a curated wine list. Light snacks are on the food menu, including pickled eggs, pretzels and a Mundare sausage plate, plus vegan and vegetarian options. Good, hearty snacks for a no-nonsense clientele.
"At the end of the day, it should feel like you're in the break room of a power station where everyone loves AC/DC," she laughs.
They're also concentrating heavily on mezcal options, collaborating with a friend from Oaxaca, Mexico, who also partners with the couple on the coffee bean side of things.
"There are a lot of big distilleries that are putting out mezcals and branding them as if they were really small," McIntosh says. "From an outside perspective it's hard to tell what's up with these producers, but our partner from Oaxaca is helping us to find out who exactly are the independent distillers. Those are the people that we want to bring in, rather than the larger commercial brands posing as small batch producers."
Article content
Brick & Mortar Festival
The yearly Vignettes Design Series, created to spotlight the city's design industry, is now in full swing, and along with it the parallel Brick & Mortar Festival.
Using spaces in the Capital Building that have been transformed by architects, designers, artists, makers and builders from the Design Series, the downtown festival includes a number of food-related enterprises in its seven temporary storefronts.
Among the pop ups, you'll find RGE RD Larder, a mini version of the acclaimed restaurant that serves wine, cheese, charcuterie and other snacks from The Butchery by RGE RD. Buongiorno is being touted as a "new concept eatery" that offers breakfast sandwiches, Roman-style pizza, and locally roasted Italian coffee. Finally, Token Bitters is sharing their lion of handcrafted bitters, normally only found locally in various Edmonton and area stores.
You can check everything out until Aug. 27 at the Capital Building at 10043 108 St.

link