Thériault students resume tradition of collecting for food bank on Halloween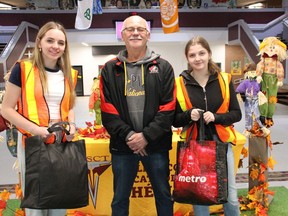 Article content
If a smiling high school student in a safety vest comes to your door asking for a non-perishable food donation on Halloween, don't run screaming.
Article content
It's called "Trick or Donate," the Halloween night food drive that's been a tradition at Thériault école Catholique secondaire since 2014.
Their last pre-pandemic drive in 2019 saw 14 truckloads of food collected in the north end and Mountjoy areas of the city.
The efforts of the 40 students and their parents, who will be driving the students around, has had a huge impact on the recipient charity, the Timmins Food Bank.
"We're never short because of these guys," said Jim Young, with the food bank. "We can't do it by ourselves. We need these great kids and it gives me goosebumps every time I talk about it."
Young expected the number of food bank users to "skyrocket," during the pandemic but the opposite occurred: People received enough in government assistance to cover their grocery bills.
Article content
"Then the cheques stopped and now it's going back to normal," he said.
The normalization of food bank usage in this country has been driving the push for better policy to fight poverty in Canada.
The Daily Bread Food Bank's 2021 Who's Hungry report recommended the Ontario government raise social assistance rates to eliminate deep poverty.
They recommended a raise from $1,169 to $2,060 for a single individual on the Ontario Disability Support Program, and from $733 to $1,545 for an individual on Ontario Works.
The demographics of Timmins Food Bank users have shifted over the years from young families to pensioners, Young said.
"The cost of living is going up and their pensions just aren't cutting it," he said, adding many feel embarrassed about getting the help. "They shouldn't feel that bad because it's the economy."
Article content
Seniors across the country have been turning to food banks, many for the first time, according to a new report from Food Banks Canada.
As reported in the Canadian Press on Oct. 27, the report recommends a universal minimum income for lower-income Canadians and providing affordable housing and more rental assistance.
Lise D'Arcangelo has been organizing Trick or Donate for seven years. She's seen how the simple act can inspire a lifelong interest in volunteering. Some students have returned as adults to take part.
"The good feeling students get from giving back means they want to keep doing it, not just on Halloween night," said the guidance councillor.
This year, the event is also serving as a recruitment tool for The "Projet Amour Communautaire," Thériault's global humanitarian initiative that sees students travelling to Jamaica to build homes.
Article content
Trick or Donate was founded in 2014 by Amélie Fecteau, an alumna of the Projet Amour program who wanted to have impact closer to home. She approached the Timmins Food Bank with an idea to piggy back on Halloween night where people are already going door to door.
It will be Grade 10 student Isabella MacPhail's second year participating.
"Knowing I'm doing a little bit to help people who don't have much makes me feel good," she said, adding that people now recognize the Thériault students immediately.
To better understand the problem of food insecurity, students with the Projet Amour volunteer at the food bank.
Returning volunteer Zoë Brazeau understands the value of bearing witness.
"A lot of people take stuff like the cafeteria for granted," said the Grade 11 student, who volunteers at the Lord's Kitchen.
"People just need to take a couple hours out of their day to put themselves in a position where they get to see. A lot of people talk about these issues but don't absorb it."
link