When I moved to Vancouver in 2016, I spent a whole year living off spoonfuls of peanut butter and various forms of potatoes in a dorm room. It was a diet largely attributed to being a college student responsible for stocking my own fridge and pantry for the first time, but even more so with not yet knowing what vegan eats were available to me in my new city, nor where to start looking. 
Six years later, asking me about the best vegan food in Vancouver is like asking a Parisian Disneyland employee about all of the proposals they've ever seen—you'd better take off your coat and stay awhile, because I've sampled it all, and Vancouver is on top of its vegan game.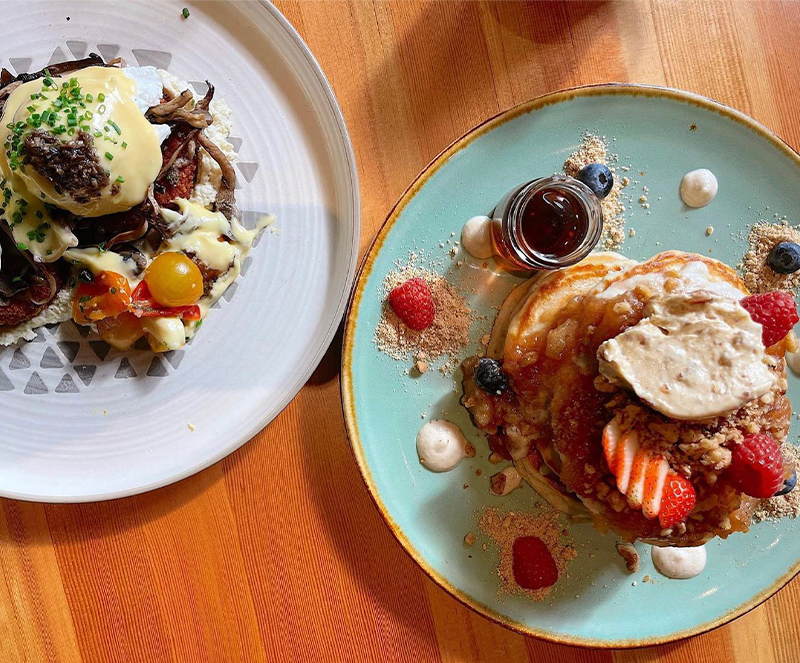 Heirloom Vegetarian Restaurant
1 Heirloom Vegetarian Restaurant
Plant-based brunch has seriously leveled-up over the past few years. Remember when finding non-dairy milk for your coffee was a struggle? Now even Starbucks has five different options for plant-based milk. For that classic glorious weekend brunch in Vancouver, Heirloom Vegetarian Restaurant wears the crown, hands down. Available from 9am to 4pm on Saturday and Sunday, its vegan buttermilk pancakes and Truffle Mushroom Benny with turmeric tofu—accompanied by a fresh-pressed grapefruit mimosa—can cure anyone's Sunday scaries.
Find out more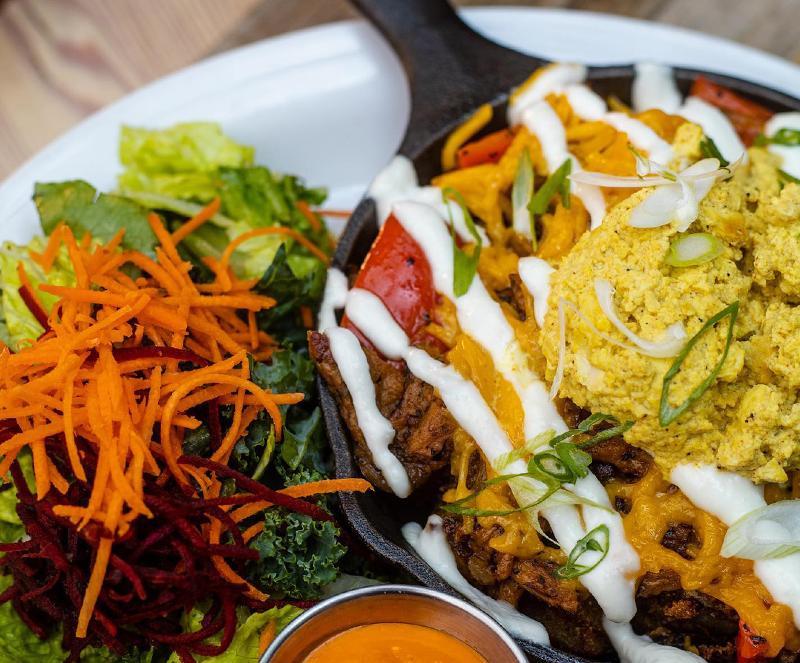 MeeT in Gastown
2 MeeT in Gastown
If that brunch craving hits during the week, MeeT in Gastown is waiting with a piña colada mimosa and piles of perfect breakfast potatoes. The Philly Cheez-Steak Hash, double-battered oyster mushroom "Chick'un" & Waffles, and slew of bennies can be noshed from 1pm to 4pm Monday to Friday and 10am to 4pm on weekends. Not to mention, their lunch and dinner menus are loaded with hearty poutines, burgers, Mac n' Cheez, and the best taco salad this side of the California border.
Find out more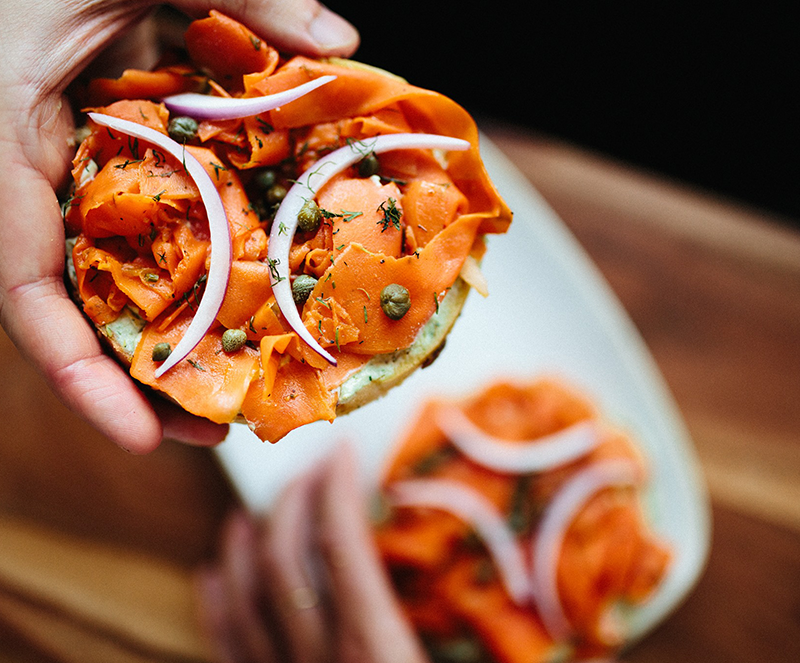 Kind Cafe and Eatery
3 Kind Cafe & Eatery
If you're looking for a quick bite, Kind Cafe & Eatery in Mount Pleasant is the spot to stop. Grab a tasty carrot lox bagel, one of the fabulous flatbreads, or your choice of TurF (a local health-minded café) baked goodies to keep your body fueled on those busy days. Kind is equally revered for its zero-waste model as much as its fresh eats and specialty lattes, so don't forget your tupperware and reusable mug! If you do, no sweat, they'll provide you with one for a small fee which is reimbursed when you bring it back. No need to forgo sustainability for something scrumptious!
Find out more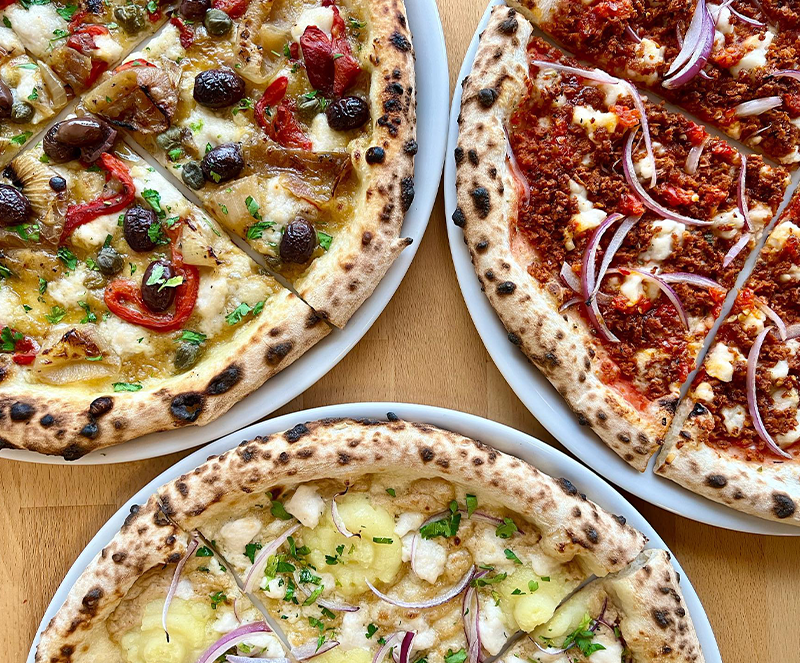 Pizzeria Grano
4 Pizzeria Grano
Pizzeria Grano specializes in plant-based Vera Pizza Napoletana—meaning it's literally certified in the art of "true" Neapolitan pizza. The hand-stretched dough, cashew mozzarella, and plant-based gorgonzola are positively perfetto—a must-try for pizza lovers, plant-based or not.
Find out more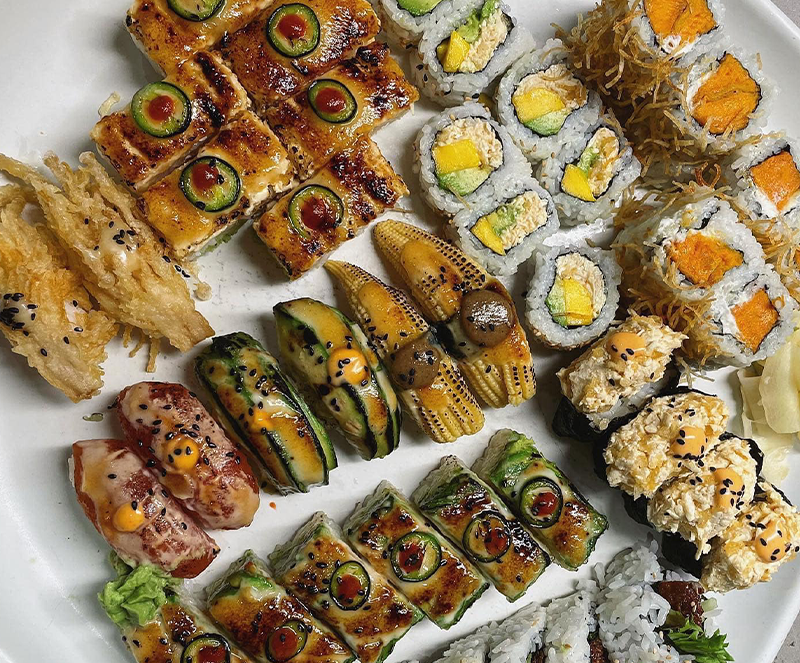 Erin Ireland
5 Ogenki Sushi
What's better than all-you-can-eat vegan sushi? All-you-can-eat vegan sushi from the comfort of your couch. We all learned that during lockdown—pick a "treat yourself night" and order a ton. The dedicated vegan menu boasts incredible options such as Red "Tuna" Nigiri made with marinated tomato and Seared "Crab" Oshizushi. Recently partnered with Reusables, the takeout containers are now available in zero-waste packaging.
Find out more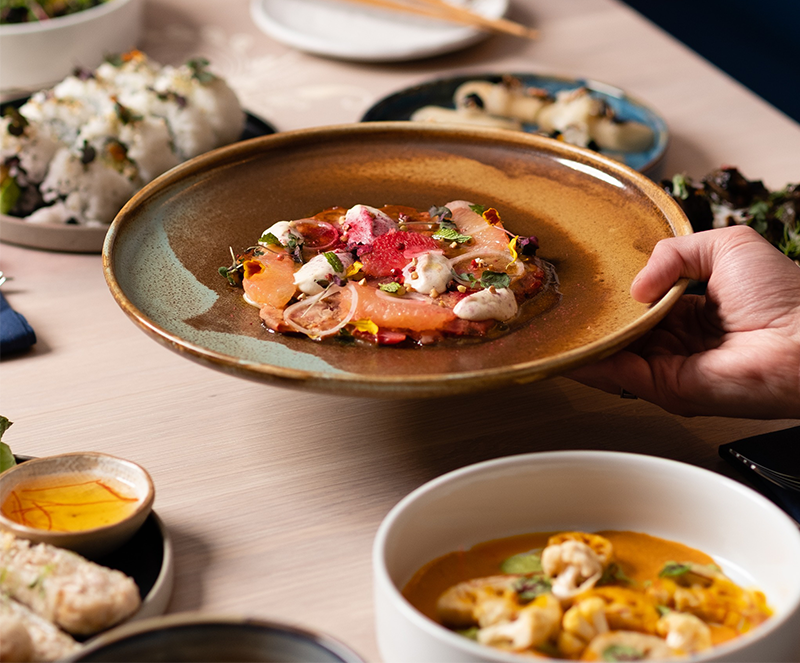 Nightshade
6 Nightshade
Nightshade is made for dining out. Located in the heart of Yaletown, this fine establishment provides an unforgettable culinary experience from the first sip to the last spoon-scrape of the crème brûlée dish. The menu is vegetable-focused—particularly highlighting the nightshade family (yes, the name is literal) of eggplant, tomatoes, peppers, red spices, and others. Expect dishes such as Crispy Cassava with mint purée and spicy red curry aioli, Agnolotti stuffed with cheeses from local plant-based creamery Blue Heron, and Zucchini and Roasted Celeriac garnished with a ratatouille.
Find out more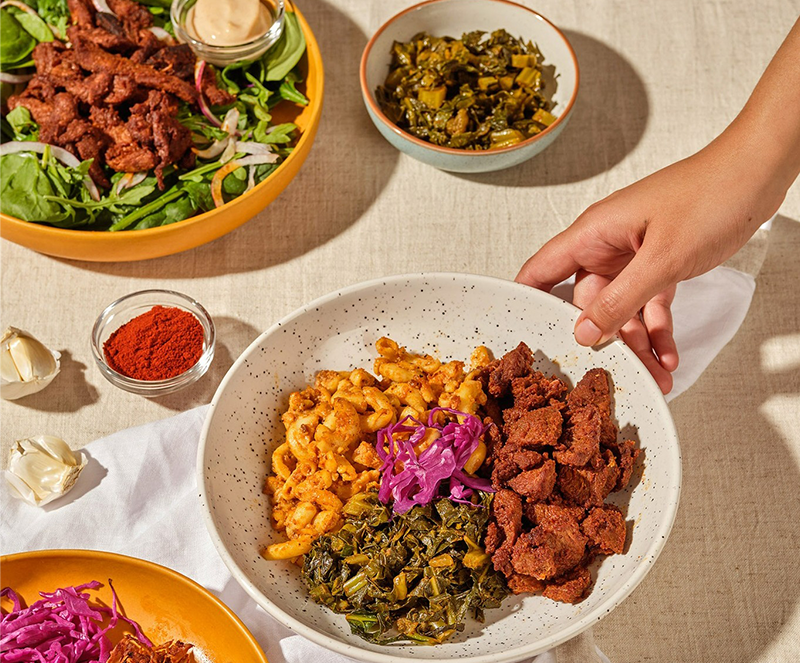 MILA
7 MILA
If you're looking to cheers over some jaw-dropping dishes in a more premium-casual atmosphere, MILA's innovative approach to exquisite plant-based comfort foods is sure to satisfy. Located in Vancouver's Chinatown, the fun and flavorful menu spans familiar favorites including burgers, noodles, sushi, tacos, and smashed chips with miso butter so delicious you'll be licking them clean!
Find out more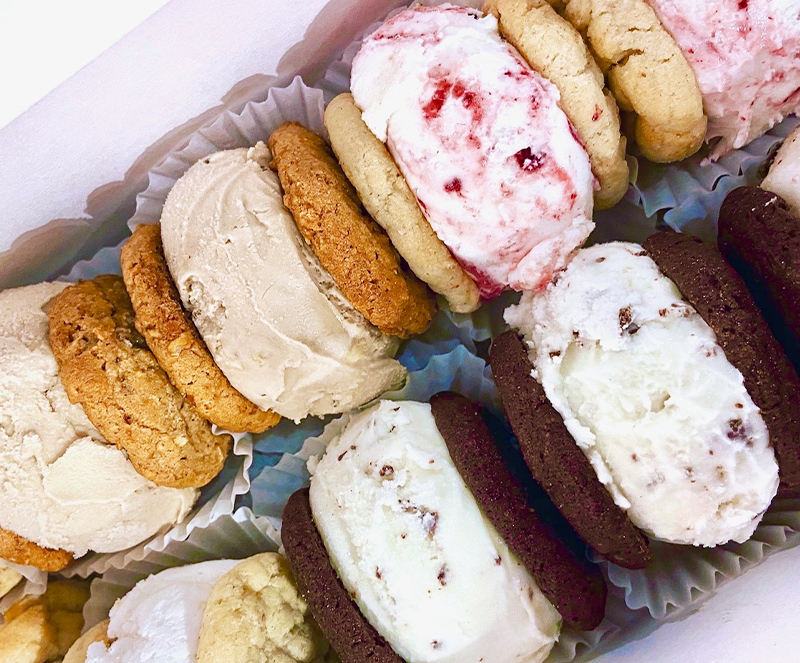 Innocent Ice Cream Parlour
8 Innocent Ice Cream Parlour
Vancouver boasts so many delicious vegan desserts that no sweet-tooth craving ever goes unfulfilled—so long as you know where to look. When the sunless days of Vancouver winter have passed and those ice cream cravings hit anew, Innocent Ice Cream Parlour will be back in business. Opening up in March, this rave-worthy spot is known for its thick, gluten-free Nice Cream cookie sandwiches. With four different cookie varieties and an abundance of dairy-free ice cream flavors to choose from, there are more combinations than days of the week.
Find out more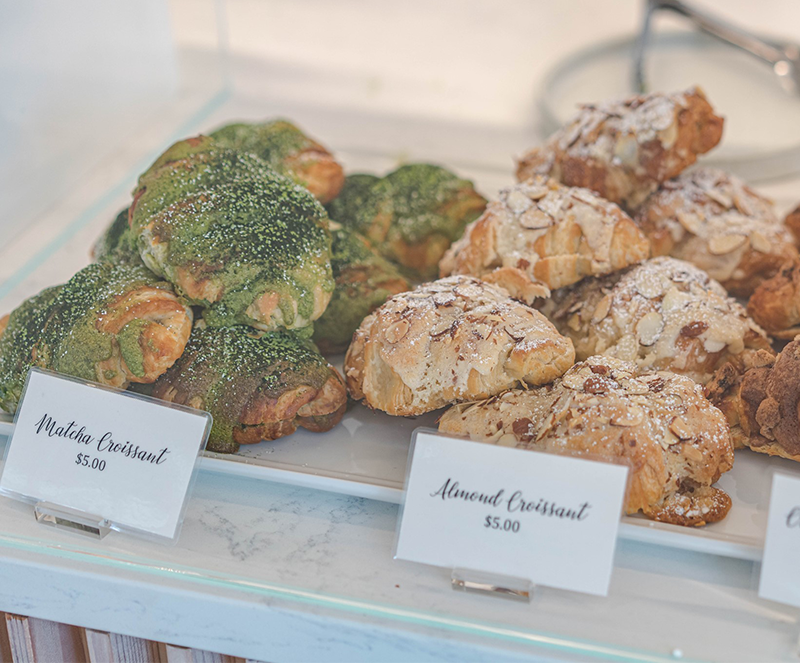 Level V Bakery
9 Level V Bakery / Whisk Matcha Cafe
Don't forget a vegan croissant with that cup of matcha—this Mount Pleasant shared space offers both. The Level V bakery and Whisk Matcha Cafe co-habitate the storefront, pairing vegan pastries and baked goods with artisan-crafted matcha beverages. Level V is also the spot for celebration desserts. Order at least three days in advance to secure a crowd-pleasing tiramisu, moist matcha cake, or tantalizing Earl Grey cake.
Find out more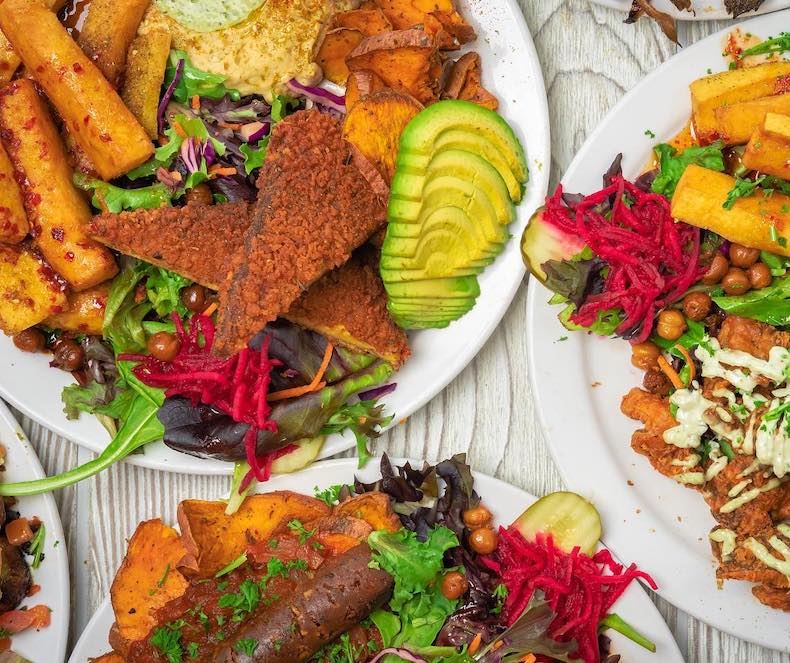 Chickpea
10 Chickpea
Whether you're enjoying an afternoon along Vancouver's Main St.—known for its trendy cafés, bookstores, and thrift shops on every block—or promenading the beach-adjacent streets of Kitsilano, plant-based Mediterranean comfort food is never far away. Offering build-your-own pitas, rice bowls, salads, and platters at both the food truck (Kitsilano) and restaurant (Main St.), Chickpea is as beloved as its namesake in the local vegan community. Known for being generous with its portions and its all-day breakfast menu available at the sit-down location, Chickpea is the perfect place to share plates with pals and somehow still walk away with lunch for the next day.
Find out more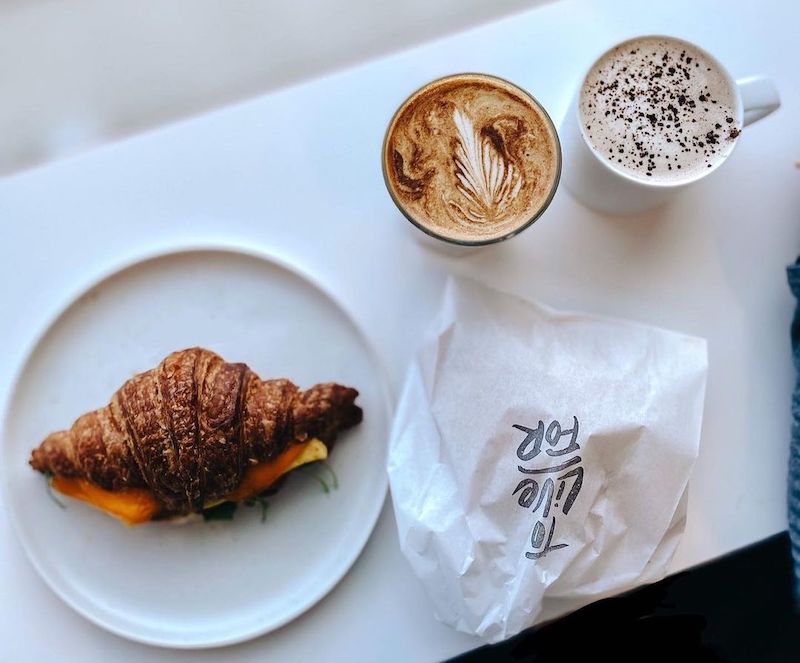 To Live For Bakery
11 To Live For Bakery
This new plant-based bakery and cafe located in East Vancouver opened its doors to a down-and-around-the-block line that didn't let up all opening weekend—for good reason. Owned and operated by local vegan recipe developer, blogger, activist, and baker, Erin Ireland, it's the brick and mortar of her beloved "unbelievably vegan baked goods" business of the same name. Sweet & savory treats—including flakey pastries, artisanal cakes, melt-in-your-mouth croissant breakfast sandwiches, and, yes, the very banana bread that kickstarted the whole thing—are made fresh right before your eyes thanks to the glass wall that separates the cafe and the kitchen. Enjoy your picks alongside a crafted dirty chai latte or chocolatey mocha.
Find out more
Amanda Thacker is a charming dinner party guest and novice sewist who writes about people, art, and sustainability from her home in Vancouver, BC.
For more on vegan in Vancouver, read:

link