When visiting the top-rated food city of Portland, OR, plant-based diners get a smorgasbord of some of the best and vegan options the country has to offer. From a vegan-friendly sports bar to a fully vegan food court, there are few cities that can top Portland's penchant for the inventive and innovative. But if you thought this Pacific Northwest culinary capital was all fun and flair, you'd be mistaken.
Portland vegan restaurants go global
Today's Portland diners get the unique ability to sample and savor cuisines from all corners of the world. And with plant-based entrepreneurs specializing in far-flung flavors from Sweden to South America to Sri Lanka, there's no chance your palate will be bored when in Rose City.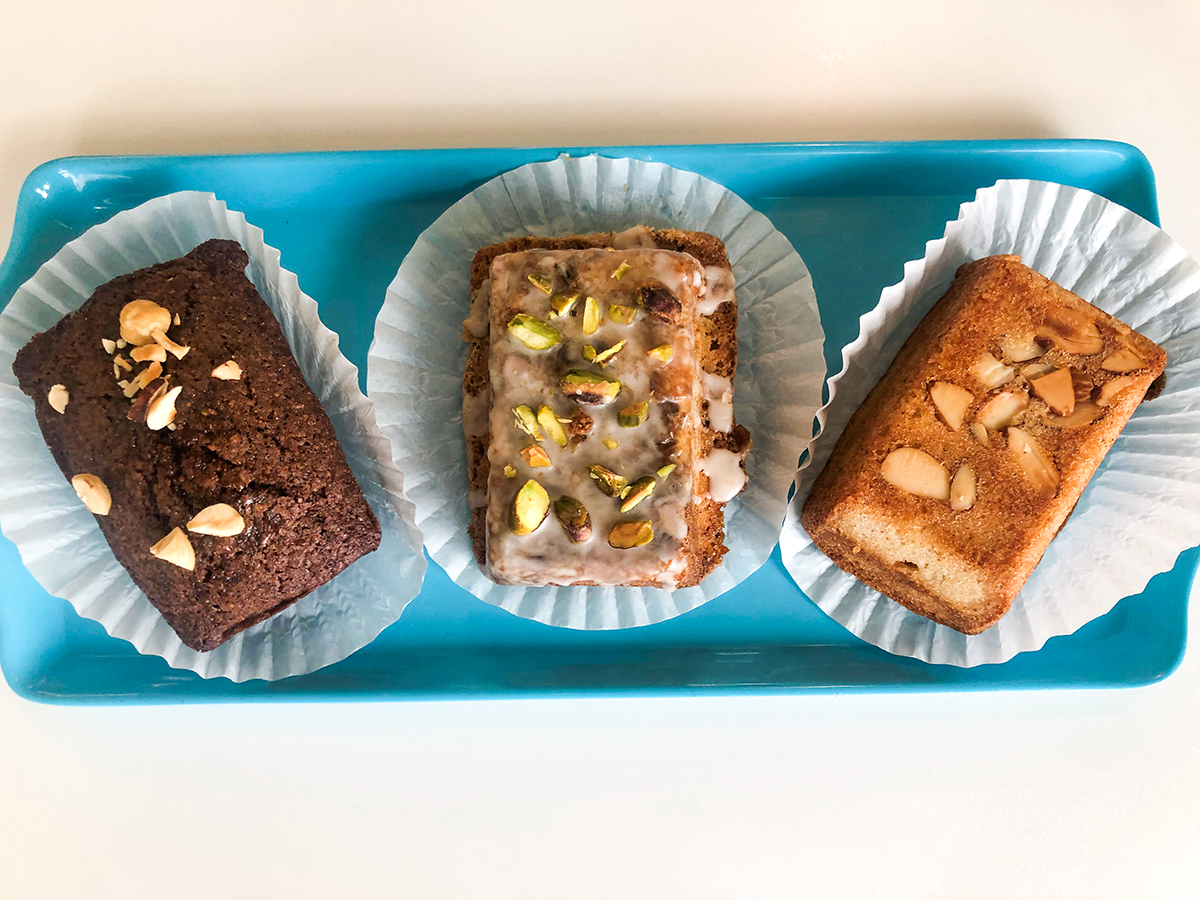 Carina's Bakery
1Traditional Swedish pastries and savory bites
A vegan oasis in the suburban community of Beaverton, Swedish American-owned Carina's Bakery offers Scandinavian sweets such as drømmekage (Danish "dream cake"), savory smörgås (open-faced sandwiches), and the best-selling Scandinavian almond cakes.
Owner Carina Comer—who is legally blind—is committed to providing employment opportunities for people with diverse abilities. "When an MBA wasn't enough to convince managers to look past my blind mobility cane and the perceived risk of having a blind person in their fast-paced kitchens, I decided it was time to pivot and see my dreams of opening a bakery come true," Comer says. And that she did.
These days Comer spends her time delighting sweet-toothed Portlanders with everything from chocolate-hazelnut chokladnötkakor to semlor, a fluffy, cardamom-infused bun stuffed with marzipan and whipped coconut cream that comes with a great backstory. The buns "used to be a staple for Lent, when Swedes tried to comply with the religious edict to cut down and eat simply by just hiding their cream inside mundane looking bread," Comer says.
Check them out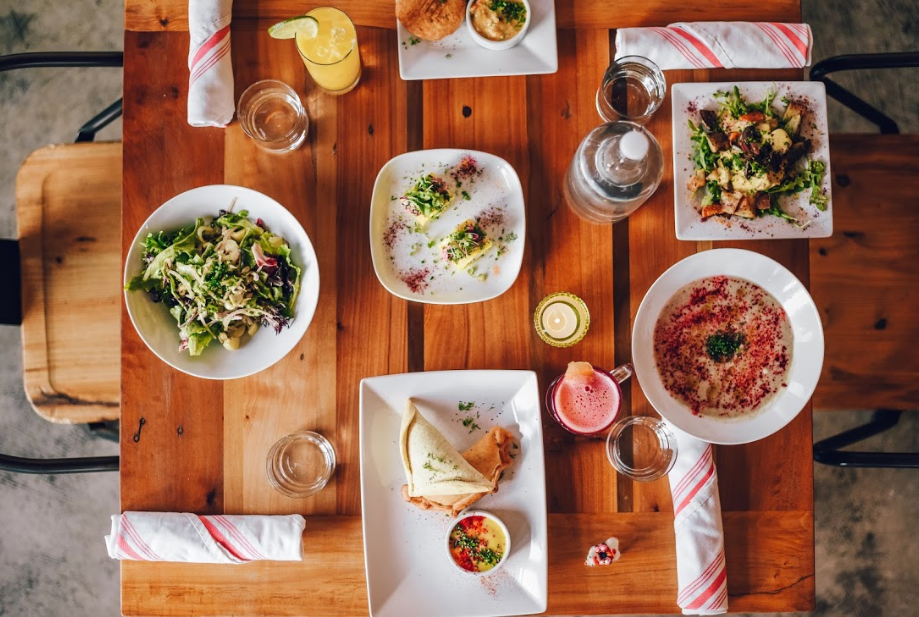 Epif
2Reimagined South American Pisco cocktails  
Constructed around the massive limb of a catalpa tree in Portland's hip and artsy Kerns neighborhood, Epif serves up plant-based small plates (think empanadas and stuffed peppers) along with a fantastic selection of cocktails made from pisco—Peru and Chile's beloved spin on brandy—and housemade vegan honey.
While you'll find plenty of Andean favorites on the menu, co-owner Nicolle Dirks stresses that while Epif draws its inspiration from the culinary traditions of Chile and Peru, it's not a conventional South American spot. "That gives us a fair amount of freedom to create dishes that maintain the essence of traditional flavors and textures, but use different ingredients to make them vegan."
This flexible approach has resulted in all sorts of original delights, from fried empanadas stuffed with vegan mozzarella to huancaína potatoes that swap out traditional queso fresco sauce in favor of a silky, cheesy cream.
Check them out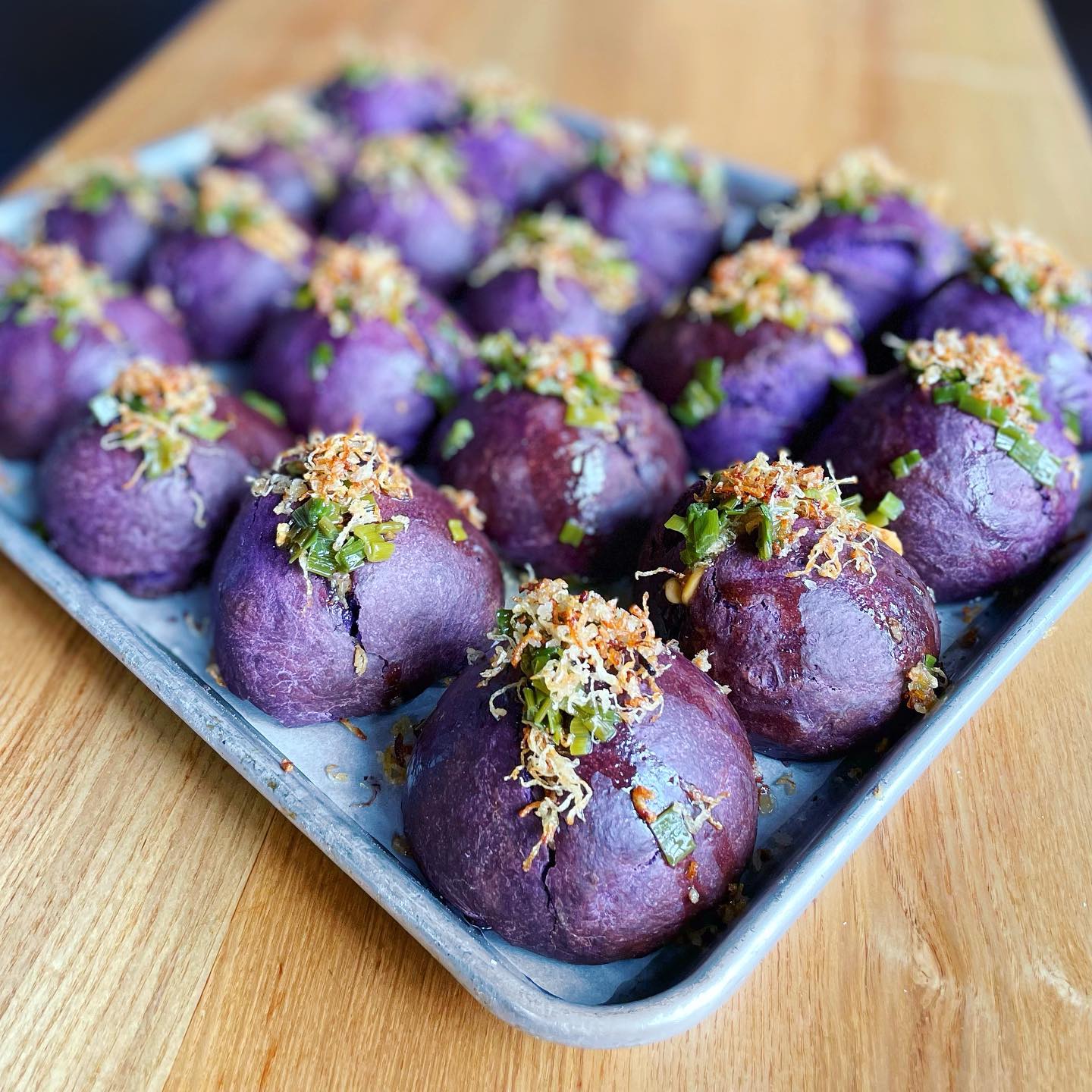 Mama Đút
3Vegan Vietnamese bánh mì, bao, and beyond
One of the newest additions to the Portland vegan restaurant scene, Mama Đút, smack-dab in the middle of Buckman neighborhood, focuses on plant-based Vietnamese fare, from bánh mì to bao to occasional specials like bò tái chanh chay (lime-cured vegan beef carpaccio) and ube buns with vegan pork floss.
It all started by happenstance, when Thuy Pham, a Vietnamese American stylist who had to pause working due to pandemic-related shutdowns, started live-streaming cooking videos to Instagram. One particular video of her and her child trying out a vegan pork belly recipe resulted in countless requests from viewers who wanted to taste the concoction themselves.
"Within a week, I had so many orders to fulfill that I had to move into a commissary kitchen and start production on a larger scale," she says. High demand for her flavors led to a series of pop-ups, and by November 2020, Pham opened her first brick-and-mortar. She hasn't looked back since.
Check them out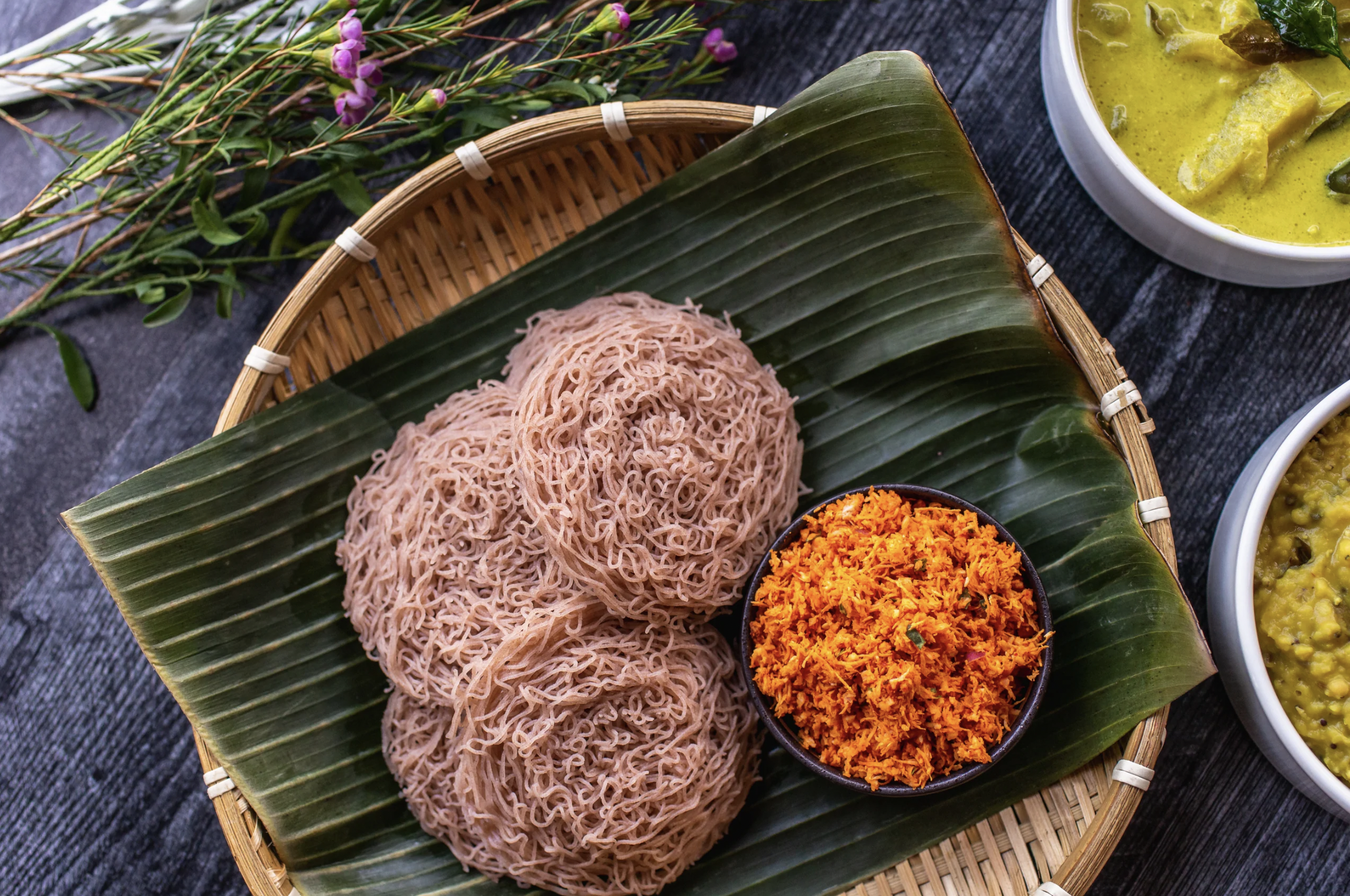 Mirisata
4Homestlye Sri Lankan favorites
Just a 10-minute walk away from Mama Đút, another pandemic-era pop-up turned brick-and-mortar is serving up Sri Lankan favorites such as string hoppers (rice noodle patties) and parippu vade (lentil fritters). Not only that, but Mirisata is also entirely worker-owned—the restaurant's part-time, non-owner employees even formed a union earlier this year.
"My dad is from Sri Lanka, so I grew up with this food," says co-founding worker-owner Alex Felsinger. "We now have several other worker-owners who are Sri Lankan and bring their own family recipes to the restaurant." While the Southeast Portland restaurant does plenty of renditions of Sri Lanka's non-veg mainstays, such as kottu roti, which traditionally uses eggs, Felsinger points out that much of Sri Lankan fare is vegan-friendly to begin with.
After all, jackfruit is Sri Lanka's national fruit.
Check them out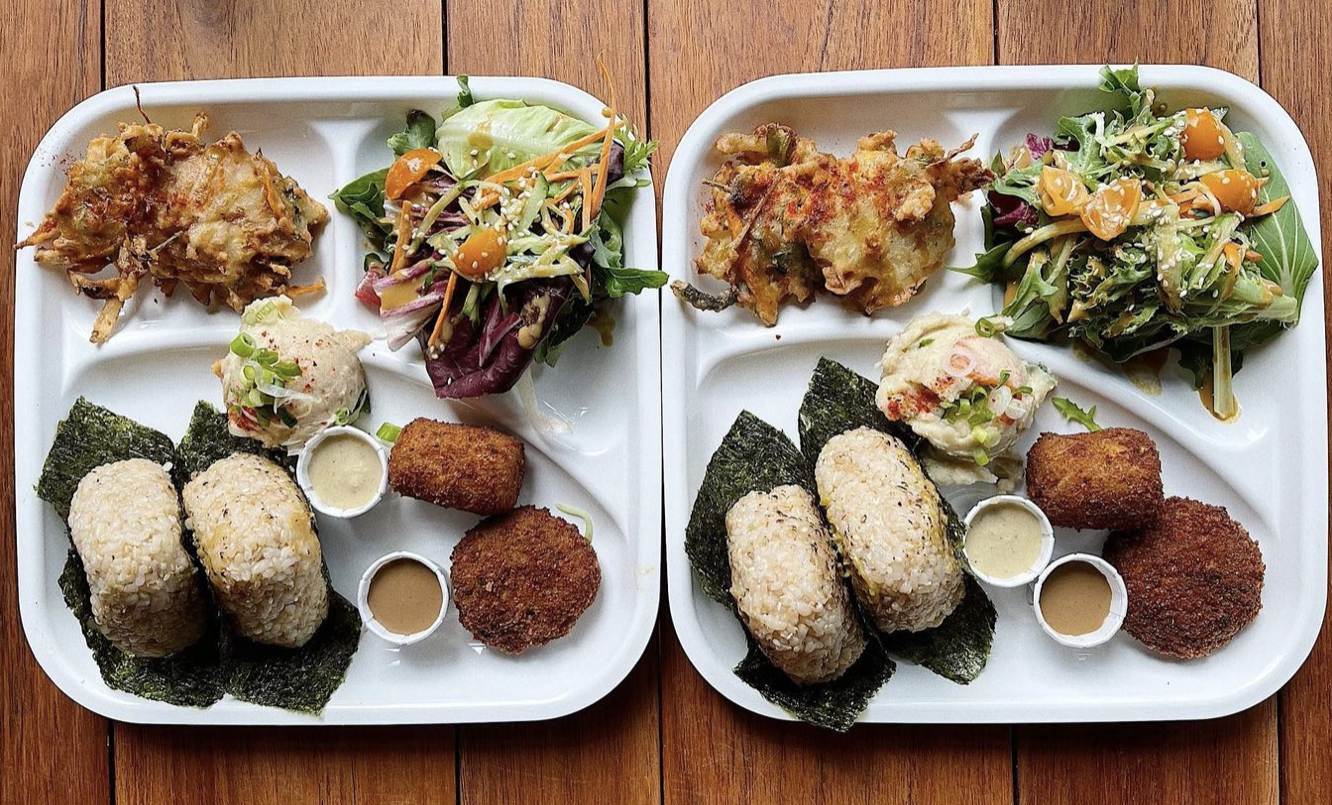 Obon Shokudo
5Traditional Japanese-Zen Buddhist cuisine
Sushi and ramen spots are easy to find across the US—tracking down homestyle Japanese cuisine? Not so much. Enter Obon Shokudo, a cozy spot in Portland's industrious Central Eastside where you'll find warming noodle soups, curry plates, and even a panko-crusted take on Oregon's own invention, the humble tater tot.
"I grew up in the mountain village atmosphere of old Japan," says co-owner Humiko Hozumi, who started Obon with her husband as a farmers' market operation before expanding into a brick and mortar. "My family had a small farm. We grew shiitakes in the rear of our house, under centuries-old cedars. I've always wanted to do Japanese shojin cuisine," she says, referring to the traditional vegetarian style of cooking that's rooted in Zen Buddhism.
Fast-forward to today, and Hozumi is transforming those same mushrooms into subtle shiitake dashi for the house curry udon and into grilled stars of open-faced sandwiches finished with smoky tofu misozuke, kale vinaigrette, and shichimi togarashi.
Check them out
For more vegan city food, read:

link